Product Categories
Contact Us
Zhejiang Hongyu Medical Commodity Co.,Ltd
Add:No.668 Chanhua Road, Yinan Industrial District, Yiwu City, 322000 Zhejiang China
Tel:+86-579-83822526
Fax:+86-579-85582308
Ph:+8613605821388
E-mail:
ruth@cnhongyu.cn
Hydrocolloid Bandage Promote Wound Healing Anti-abrasion Water-resistant
Quick Details Properties: Medical Adhesive & Suture Material Type: Medical Adhesive Brand Name: smileplus Model Number: G1308A Place of Origin: Zhejiang, China (Mainland) certificates: BSCI,CE,ISO13485,FDA,SGS function: Preventing the friction parts from hurt Sterile: R thickness: customized...
Chat Now
Product Details
Quick Details
Properties: Medical Adhesive & Suture Material

Type: Medical Adhesive

Brand Name: smileplus

Model Number: G1308A

Place of Origin: Zhejiang, China (Mainland)

certificates: BSCI,CE,ISO13485,FDA,SGS

function: Preventing the friction parts from hurt

Sterile: R

thickness: customized

Material: Hydrocolloid

advantage: keep wound from hurt

COLOR: white & clear

size: various

Composition: adhesive hydrocolloid and High permeability PU film

MOQ: 10000pcs
Packaging & Delivery
Packaging Details:
1PCS in a Paper-Poly Pouch
10pcs /box
50boxes/carton
Delivery Detail:
about 30days after get the despoit and confirmed all the details
Specifications
1,CE,FDA,ISO13485SGS
2,Hydrocolloid keep skin humidify
3,hydrocolloid wound dressing
4,Painless for burn wound
Hydrocolloid blister plaster
Description:
Hydrocolloid wound dressing is a kind of elastic dressing made of pressure sensitive adhesive with CMC(Carboxymethyicellulose)hydrophilic granules.
the hydrocolloid material can provide the wound a moist environment and accelerate the wound healing, the PU film cover the hydrocolloid can waterproof and air-permit.
1,keep the wound in moist environment and accelerate the healing
2,the PU film canbe waterproof,also block the bacteria and protect our skin and wound
3,No medicine inside.
Product description
1. There semi-permeable matte polyurethane or polyurethane foam to enhance the absorbency. Film tjickness: 0.025-0.035mm.
2. When the thickness of hydrocolloid dressing is 0.4mm thick:
Moisture permeability:0.34g/10cm2/24h/37°C 1.06g/10cm2/72h/37°C
Hygroscopic ability: 2.40g/10cm2/24h/37°C 2.46g/10cm2/72h/37°C
Hygroscopic capacity: 2.74g/10cm2/24h/37°C 3.52g/10cm2/72h/37(only for reference)
3.Hygroscopic capacity: 2.83g/g/24h/37°C 3.23g/g/72h/37°C (only for reference)
4. PH 5.7 Acids & Alkali Resistance PH 3-12
5. Hygroscopic capacity and hygroscopic capability can be adjusted according needs.
Product performance
1. Excellent exudates absorption capability.
2. Keep the wound in a moist environment, promote wound Healing, effectively release pains and reduce wound care frequency.
3. Water-proof protects the wound from microbial invasion.
4. Excellent elasticity and self-adhesive, convenient and comfortable to wear.
5. Please change the dressing when it turns white.
6. Easy to peel off, no adherence to wound, so effectively reduce the potential damage and pains.
7. Available in different sizes and shapes to meet the clinical needs.
Applications
For slight or moderate exudating wounds
1. Leg ulcer.
2. Ⅰ-Ⅱ degree bedsores
3. Superficial and burn wound.
4. Post-operation wound.
5. Skin-donor sites.
6. All kinds of superficial wound and cosmetic wound.
7. For granulation and epithelialisation process of chronic wound.
Other Specifications:
| | | | |
| --- | --- | --- | --- |
| ITEM Number | Size | Pcs/Box | Boxes/Carton |
| G1302 | 5*5cm | 20 | 20 |
| G1305 | 7.5*7.5cm | 20 | 10 |
| G1308 | 10*10cm | 20 | 10 |
| G1315 | 15*15cm | 10 | 5 |
| G1317 | 15*20cm | 10 | 5 |
| G1318 | 20*20cm | 10 | 5 |
| G1307 | 8*12cm | 20 | 10 |
| G1314 | 15*18cm | 10 | 5 |
| G1431 | 5*15cm | 20 | 20 |
| G1432 | 5*20cm | 20 | 20 |
Functions:Ideal for light to moderate wounds;
1.Venous ulcers
2.I-II bedsore
3.Superficial and small burn wounds
4.Post-op wounds
5.Donor skin sites
6.Superficial trauma and beauty operation wounds
7.Granulation and epithelialization of chronic wounds
Cautions
1. Make sure the wound area is clean and dry before using dressing.
2. Hydrocolloid dressing should be 2 cm bigger than the wound area to make sure that dressing could be covering the wound.
3. If the depth of wound is more than 5 mm, it is better to fill the wound with proper material before using hydrocolloid dressing.
4. It is not suitable for wounds with heavy exudates.
5. When the dressing becomes white and swelling, it indicates that dressing should be changed.
6. At the very beginning of using the dressing, wound area maybe enlarged, this is caused by the debridement function of the dressing and it is normal phenomenon.
7. The gel will be formed by the mixture of hydrocolloid molecule and exudates. As it looks like purulence secretion, it would be misunderstood as the wound infection. Just clean it with saline.
8. There maybe some smell from the dressing sometimes, and this smell disappear after cleaning the wound with saline water.
9. Dressing should be changed at once when leakage occurred around the dressing.
CANTON FAIR 2014Hosipitalar FAIR in Brazil 2014
MEDICAL FAIR in INDIA 2014
Company Information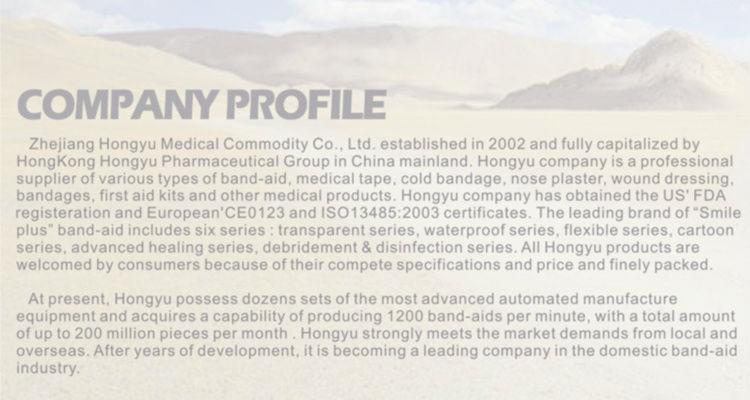 The Certificate
The Customers
FAQ:
1,Q:Are you trade company or manufacture?
A:NO,We are factory located in YIWU city,Zhejiang Province,China
You can flight to shanghai and then take train to YIW city within 2.5 hours. warmly welcome to visit us
3,Q:How can I get some samples?
A:We will glad to offer you sample for you check our products quality.
4,Q:what's the certification do you get?
A: BSCI,CE,FDA and ISO13485 quality system
Hongyu Medical Company, established in 2002, is one of the leading hydrocolloid bandage promote wound healing anti-abrasion water-resistant manufacturers and suppliers in China. Located in Yiwu, we enjoy convenient transportation. Welcome to buy and wholesale our products or check the quotation with us.
Related Products
Feedback